SoSa Plays – Jackbox Party Pack
Hi SoSa members and welcome to our Jackbox Party Pack meetup blog/video,
Check out the video on YouTube by clicking here.
This was the first time we played Jackbox Party Pack and it was actually a really cool, engaging and fun game. Jackbox Party Packs have multiple games that our whole site can enjoy on many different devices. Chat members can play along as long as they can see the screen we are streaming from and by acting like an audience who chooses a winning solution. See the picture below, as members vote on which of the two proposed answers seem funnier to them.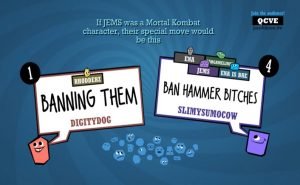 With us being us, a lot of the answers were highly hilarious and totally inappropriate. Some of us even had a similar mindset with our answers not being different at all and this happened a few times during the meet. Listen to us reason, laugh and suspiciously accuse other players of being behind the answers (right up until we find out who actually said it) But, do not worry, we also threw some shots at outsiders as well, check out the image below.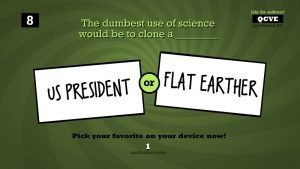 This coming Sunday we will be playing one of our favourite games. Let us know if you would like to join our Minecraft hunger games by RSVPing on the event by clicking here. (Also have a peek at the meetups portion of the site as we have included the game meetups for the next few weeks, as well as real life meetups in London and New York by clicking here)
As per usual, we have included the usernames of everyone that participated in our meetup, for your stalking pleasures: