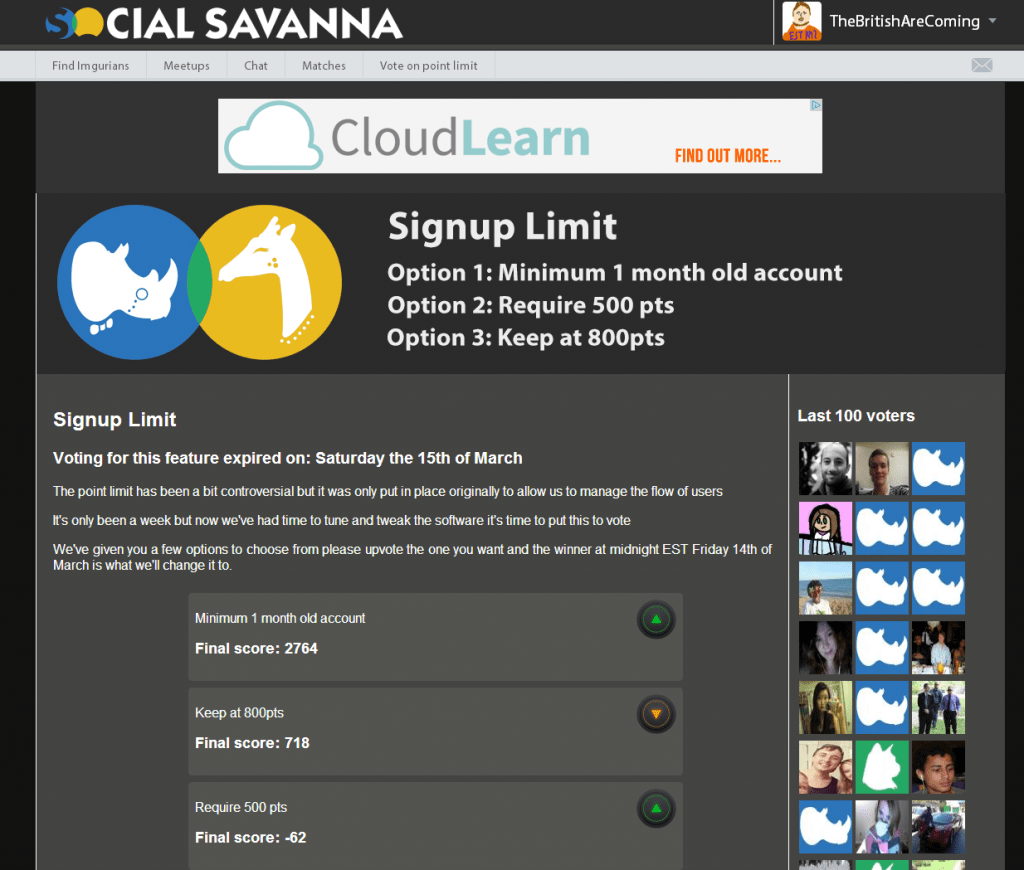 Hey all,
If you missed the last update: /?p=45
You all voted and the 1 month restriction won by a mile.
I'm sure many of you will agree that this is great news, and will stop those annoying posts begging for points – I'm sorry to anyone that got annoyed, it annoyed me as well.
If you've been with Imgur for more than a month you can now join us:
https://socialsavanna.com
This week, we've made some small tweaks and fixes to several areas, and adding comments to meetups. Anyone who had log in issues before, this should be fixed now.
—————————–
This is what you can expect to see over the next week:
1. Subscriptions (you don't need one to use the site, but they will add extra features and remove ads)
$30 per year – Basic – will remove ads.
$65 per year – Premium – will remove ads, gives you the ability to create private rooms, see who's been visiting your profile and who's read your messages, higher upload limits, ability to set your chat colour and, as time goes on, we'll be allowing you to embed things like youtube videos into your profile, and so on.
$15 per month – same benefits as premium but will give you access to commercial game servers for subscribing members ONLY. We'll start with Minecraft and Terreria, and then if we get enough interest will ask what everyone would like to see.
Not all features of subscriptions will be 100% live until April, so early subscribers get a 20% discount. After that, anyone with a Premium Imgur Membership will get a 10% discount.
Again – you DO NOT HAVE TO SUBSCRIBE, but it will mean that ads will be gone and you'll be helping us to build this into something better for everyone. All the money we make from this will be going back into Social Savanna. We're hoping to hire Imgurians to build and manage the site for Imgurians.
2. Democracy area will go live – you can suggest features and vote for your favourite ones that you want us to incorporate into the site.
3. Q&A – a few people have asked for this. We'll add an anonymous (unless you want it to be public) Q&A system (a bit like OKCupid), so you can ask questions – even personal ones – and get answers from the community without being worried about people knowing who you are.
4. Matches are live – but the algorithm is a bit silly, so this week we'll get it working properly and you'll be able to see which Imgurians you match with, based on your shared interests, likes and dislikes.
5. Notifications and Feed – A bit like Facebook (with a little less emphasis), you'll get proper notifications from your friends on the site.
6. More Likes / Dislikes and Privacy options (including the ability to hide your gallery,  favourites and comments!)
—————————–
Really hope to see everyone there! If you get any problems, please make sure you report them so we can get them fixed.
Thanks again for everyone's great support – you're all fantastic – we've got big plans and would like you all along for the ride. 🙂
James (TheBritishAreComing)